Baby Got Back: 5 Ways to Serve Baby Back Ribs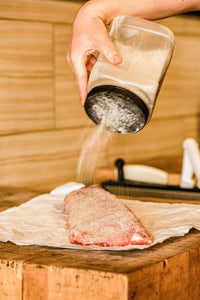 Juicy, flavorful ribs are always good, whether it's game day, a summer cookout, or family dinner. Ribs also always impress guests, yet they're actually relatively simple to prepare and cook — making them especially perfect for entertaining and feeding a crowd.
There are different types of ribs, though, and they aren't all created equal. One of the most common is baby back ribs, which are cut from the loin, along the pig's back (hence the name "baby back"). Baby back ribs have a distinct curve, are quite meaty, and are known for having a sweet flavor. At Lakewood Meats & Sausage, Lodi's best butcher shop, we're tremendous baby back rib fans. Today, we're sharing some of our favorite ways to cook and serve them. Which one will be your new favorite?
1. Serve mini racks
A full rack of baby back ribs typically comes with 8-13 individual ribs. Sure, you can put the entire thing on a platter, but instead, consider serving intact "mini-racks" with 3-4 ribs each. This presentation is fun and fresh, plus it's perfect for serving a crowd, allowing everyone to just grab one (or two!) mini-racks. 
2. "Lazy" surf & turf
Traditional surf & turf includes prime cut meats like steak and seafood, often lobster or crab. For this version, cook your ribs however you prefer, then cut the racks into individual rib pieces. Top each of them with a single shrimp, a sprinkle of bread crumbs, and a drizzle of melted butter, then bake for just a few minutes to let the flavors meld.
3. Rib sandwiches
After cooking the baby ribs whichever way you prefer, carefully remove the bones. You can either chop or shred the meat or try to keep the individual ribs intact. Then, add the rib meat to bread — we highly recommend slider rolls — and top with cheese and caramelized onion. Broil in the oven for a few minutes, just long enough to let the cheese melt. 
4. Experiment with different flavors
There's no rule that says baby back ribs have to be barbecue-flavored (although BBQ ribs are certainly delicious!). Try cooking them with different marinades and sauces, such as honey-glazed, ancho chile-rubbed, apple cider-basted, or Asian-inspired sticky and sweet. 
5. Serve with dipping sauces
Baby back ribs aren't traditionally served alongside any sort of dipping sauce, but who says they can't be? Keep your rib marinade or glaze simple, then serve individually-cut ribs with a variety of sauces for dipping. Try different barbecue sauces, a garlic-herb aioli, honey, a spicy sauce, or blue cheese dressing. Be sure to set out plenty of napkins!
So how will you serve your next batch of baby back ribs? Tag us on Instagram (@lakewoodmeats) or connect with us on Facebook and let us know! Lodi's best butcher shop sells hand-cut baby back ribs, as well as an extensive selection of other prime cut meats. Stop by our location in Lodi Monday through Saturday, or order meat online for pickup or shipping.
---