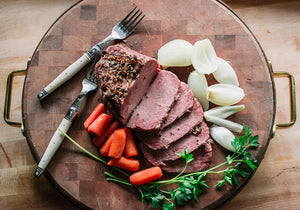 Know your food.
FOOD INTEGRITY MATTERS.
Lakewood Meats and Sausage features a wide variety of premium cut meats, organic sides, artisan cheeses, and butter. Locally sourced. Humanely raised. German Dakota Style. We know how important healthy living and clean products are to you and your whole family.
Go ahead…have a cow.
After 40+ years of meat experience, we pride ourselves on our Master Chef Creekstone Beef line. For those who choose to eat red meat, here's how we do it: Our cattle are raised on a loving family farm. Ideally, the cattle will stay together in their herds throughout life, be able to nurse their young, walk on green grass, and lay in the sun (this is a big deal to us). Happy animals means happy food.
At the time of harvest, our farmers will use Temple Grandin methods to ensure the cattle are not stressed or agitated. The humane treatment of animals matters. Why? Because it's the ethical thing to do, and the proper handling and treatment of the meat affects the quality of beef. We love Temple Grandin because she pioneered the humane treatment of livestock in slaughterhouses. These are practices we feel the entire meat industry should live by. According to her, her autism allowed her to connect with animals on a deeper level and create practices that helped keep the animals calm until their final moments. Calm animals leads to no suffering, which leads to better meat. (We promise.) Acknowledging their sacrifice with gratitude and blessings is important to us.
All of our Creekstone beef comes from family farms back in the Midwest where all of the animals are verifiable Black Angus Beef, pastured, and humanely treated from birth to processing. The animals are fed a rationed high-quality corn-based diet during the last few months of life to instill well-marbled tender beef.
Don't be a chicken.
We source the best chicken from local family farm, Mary's Chicken. This conscious family farm just earned themselves a five-step animal welfare rating to encourage higher welfare practices and systems to benefit farmers, consumers, retailers, and the animals. The farm is Non-GMO Project Verified and the chickens are raised in small groups, pastured, and fed a vegetarian diet, which means a healthier bird on your plate.
Are you game?
We support all hunters as long as they are connected with the land. Meaning that wild game must have tags and registration. Wild boar, bear, elk, and deer make delicious show stopping sausage, thuringer, and salami!
Shop Now
Back to top