Enjoy a St. Patty's Day Feast with Corned Beef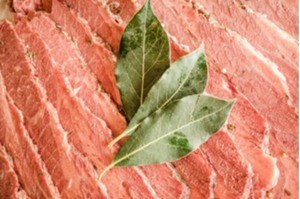 There is perhaps no more iconic, lively, and widely celebrated holiday than St. Patrick's Day. Every March 17, people all around the world honor the life of the patron saint of Ireland with music, dancing, parades, green everything (including beer, of course!), and traditional food. Although several dishes have associations with St. Patrick's Day, arguably the most well-known is corned beef and cabbage. 
At Lakewood Meats & Sausage, we've earned a reputation as Lodi's best butcher shop because we honor traditions, particularly food, through our old-school values. We understand the importance of comfort food like corned beef, because our family-owned business has been in the community for over 50 years. Our customers absolutely love corned beef (as do we!), so we wanted to share a bit about where this delicious tradition came from and how you can get some for your own St. Patty's Day feast. 
A brief history of corned beef
Interestingly, corned beef and cabbage is actually a distinctly American dish. In 18th- and 19th-century Ireland, beef was very expensive and hard to come by. Celebratory Irish meals centered around ham — specifically bacon, which was much more abundant and far more affordable. That also explains why cabbage and potatoes are common St. Patty's Day side dishes. When Irish immigrants began to arrive in North America in the 19th century, they found beef to be much more accessible. Thus, corned beef became the go-to dish of Irish Americans. 
Corned beef for St. Patrick's Day
Irish, American, or both, corned beef is synonymous with St. Patty's Day. It may seem slightly intimidating to attempt making it, but corned beef is actually very simple to cook! Despite its unique name, it's essentially a brine-cured beef brisket. Prepare it much like you would cook a traditional brisket or pot roast, "low and slow" for several hours.
Like many of our other prime cut meats, Lakewood's corned beef comes seasoned and ready to cook. Pop it in the slow cooker before work, then come home in the evening to a delectable, traditional St. Patrick's Day meal. Serve it with traditional cabbage and potatoes on the side or turn your corned beef into classic Reuben sandwiches with sauerkraut and Swiss cheese on rye bread. For a more innovative, modern take on the dish, try these corned beef tacos (yes, tacos!) or add some corned beef to a gooey grilled cheese sandwich. Regardless of how you choose to prepare it, don't forget the green beer!
The best St. Patrick's Day feasts center around premium corned beef, and Lodi's best butcher has you covered. We also sell a wide selection of gourmet sausages and other prime cut meats, as well as made-from-scratch side dishes and even desserts! Stop by the shop Monday through Saturday or order meat online for shipping or pickup. In the words of an old Irish blessing, "May the blessings of Saint Patrick behold you."
---