How to Cook Filet Mignon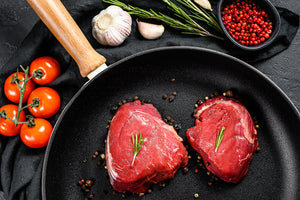 Filet mignon, which means "tender, delicate, or fine fillet" in French, is one of the most revered cuts of beef. It's a classic steak with a delicate, mild flavor, and it has very little fat or marbling. Because of that, filet mignon has an excellent mouth feel — and it's also substantially more expensive than other prime cut meats. 
It's well worth it to splurge on filet mignon, at least occasionally, but that doesn't mean you have to go out to a fancy steakhouse. You can cook a perfectly tender, juicy filet mignon at home! However, it is crucial to prepare it properly. Since there's next to no fat, filet is not particularly forgiving (completely opposite of our gourmet sausages). The last thing you want is a tough filet mignon!
Fortunately, it's not at all difficult to cook this type of steak perfectly — you just have to take a bit of extra care. Here are our best do's and don'ts for making a perfectly cooked filet mignon. Hope you're hungry!
Cooking Filet Mignon
As Lodi's best butcher shop, one of our favorite things about beef overall is how simple and straightforward it is to prepare. In fact, the fewer ingredients and steps, the better! This classic recipe from Tasty involves butter and just a few spices and aromatics, allowing the filet mignon's texture and flavor to shine. While the recipe is easy to follow, there are a few crucial takeaways. 
Allow the filet mignon to come to room temperature for 20-30 minutes (this is actually true of any prime cut meats). 
Whether you're using a grill or cooking on the stove, make sure your cooking surface and/or pan are hot before you add the filet mignon.
When you initially put the steak on, don't move it for 2-3 minutes. This allows a nice crust to form, which helps seal in the juices.
Always finish the filet mignon in a pre-heated oven.
Let your steak rest for about 10 minutes before cutting. 
Filet mignon dipping sauces
Now that you know how to cook a perfectly tender filet mignon, there's one more tip that will really take your steak to the next level: serving it with dipping sauce. While this may seem a bit unorthodox to devoted carnivores, sauce goes a long way in enhancing filet mignon's mild flavor. 
Garlic butter - Simply combine minced garlic with some butter and serve directly on top of your filet. Feel free to add a few fresh herbs!
Peppercorn - This creamy sauce has a huge impact but requires just four ingredients. 
Bearnaise - While it isn't quite as simple to prepare as other sauces, decadent bearnaise is a classic pairing with filet mignon.
No matter how carefully you prepare steak, it's important to start with a high-quality cut of beef. Lakewood Meats & Sausage sells only top-quality, ethically sourced prime cut meats and gourmet sausages. Stop by Lodi's best butcher shop or order meat online for shipping or pickup and be sure to check out our other recipes.
---