Laissez Les Bons Temps Rouler! 5 Great Andouille Sausage Dishes for Fat Tuesday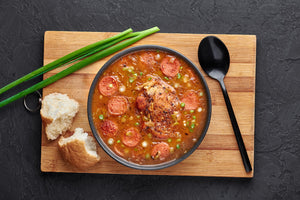 Fat Tuesday, otherwise known as Mardi Gras in French, is just around the corner. The celebration marks the end of the six-week-long Carnival season and the beginning of Lent, the 40-day fasting period traditionally observed by Christians. Fat Tuesday itself is one lively day of partying, parades, live music, and indulgent food and drink — particularly those that are off-limits during Lent. 
One of those "forbidden" foods is pork. And since Andouille pork sausage is a staple of Cajun and Creole cuisines, it should come as no surprise that it plays a starring role on Fat Tuesday. This year's celebration may be lacking parades and partying, but you can still observe Fat Tuesday with a delicious meal. To help you celebrate in the most authentic (and delicious!) way possible, our Lakewood Meats & Sausage crew put together five ideas for what to do with andouille sausage. As Lodi's best butcher shop, we know a thing or two about preparing sausages and you may be surprised by how diverse this flavorful food is. 
1. Red beans and rice
This is a classic Creole dish, traditionally made on Mondays with leftover vegetables and beans from Sunday supper. It's slow-cooked, allowing the smokiness of the andouille sausage seep into all the other ingredients. There are hundreds of recipes out there, but we especially like this one from Half Baked Harvest.
2. Shrimp and sausage gumbo
Gumbo is another classic Creole (and Cajun) dish, one that's often associated with heated debates about the "right" ingredients and preparation method. We think any recipe containing andouille pork sausage is the right one, but we're partial to shrimp and sausage. 
3. Jambalaya
Any dish that centers around andouille pork sausage is good in our book! That's exactly what jambalaya is, a globally-inspired Creole dish consisting of meats, vegetables, and rice. The meats are typically andouille plus chicken, shrimp, or crawfish.
4. Butter beans
Beans and meat are about as traditional as food gets, but it's elevated and made modern with flavorful andouille. Fun fact: butter beans are actually lima beans. The term is a tradition in both the Southern US and the UK. 
5. Soup with andouille sausage
Another simple and rustic yet always-delicious dish is soup with sausage — comfort food at its finest. This smoky potato and kale soup recipe makes the perfect dinner on a cold winter night. The best part is that this meal is super affordable and cooks in one pan! 
Stop by Lodi's best butcher shop Monday through Saturday for your andouille, plus an extensive selection of other beef and pork sausage. As a full-service traditional butcher, we carry several other meats, side dishes, and made-from-scratch desserts. You can even order meat online for in-store pickup or shipping. Connect with us on Instagram @lakewoodmeats and show us your Fat Tuesday creations! Laissez Les Bons Temps Rouler (let the good times roll)!
---